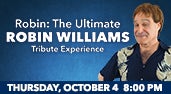 Date

Oct

4

, 2018

Price

$25.50, $35.00

Availability
Robin: The Ultimate Robin Williams Tribute Experience featuring Roger Kabler
With special guests Marc Price and Mike Bova
"Astonishing." – New York Daily News
"The closest thing to Robin Williams." – New York Newsday
Comedian/impressionist Roger Kabler channels the spirit of Robin Williams to become the beloved comedy legend on stage. It's not just an impersonation but a stunning transformation – like Hal Holbrook as Mark Twain. After years of study, he has the look, voice and crazy antics down pat. You'll feel like you're watching Robin Williams perform right before your eyes!
The former Zima spokesman and Carol Burnett cast member is known for his other spot-on impressions, including Al Pacino, Robert De Niro and TV Detective Columbo.
Taking the stage beforehand is popular comedian Marc Price, who played Skippy on the '80s sitcom Family Ties. The Los Angeles Times calls him "refreshingly bright" while The Boston Globe says he's "wickedly funny."
Opening this incredible evening is award-winning comic Mike Bova, a hilarious funnyman in his own right.
Ticket Information
Tickets range from $25.50 - $35.00 plus applicable service charges. Tickets are available by visiting the Genesee Theatre Box Office, all Ticketmaster outlets, Ticketmaster.com & Ticketmaster charge by phone at 800-982-2787.
For Mature Audiences
Print This Page