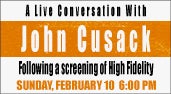 Date

Feb

10

, 2019

Price

$52.00, $62.00, $72.00, $150.00

Availability
A Live Conversation with John Cusack
following a screening of High Fidelity
Say Anything… Grosse Pointe Blank
Better Off Dead Being John Malkovich
Serendipity The Sure Thing
Wouldn't it be amazing to see a movie with one of the stars in it? Join John Cusack for a screening of the hit romantic comedy High Fidelity followed by a live conversation with the actor.
Set in Chicago with scenes filmed on location, the movie stars Cusack as a freshly dumped music store owner who tracks down his old girlfriends to find out where he's gone wrong in love. Aided by his music snob employees – including Jack Black in his breakout role – our hero learns much along the way about himself and the female heart.
An alumnus of Chicago's renowned Piven Theatre Workshop, the Evanston native earned a Golden Globe nomination for his performance.
Making the evening extra special, the actor will take questions from the audience regarding the film and his career in a moderated discussion.
A limited number of VIP seats are available, including a post-show photo op with the acclaimed actor. Get your tickets now while they last! (Film is rated R)
A Live Conversation with John Cusack will be moderated by Chicago's Dolly McCarthy of The Dolly McCarthy Show.
Ticket Information
Tickets range from $52.00 to $150.00 plus applicable service charges. Tickets are available by visiting the Genesee Theatre Box Office, Ticketmaster.com & Ticketmaster charge by phone at 800-982-2787.
VIP Package Available
Includes premium seat and photo for $150.00.
Price
$52.00, $62.00, $72.00, $150.00
Print This Page