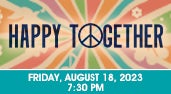 Date

Aug

18

, 2023

Price

$44.50, $59.50, $74.50, $92.50

Availability
HAPPY TOGETHER 2023
Happy Together Tour 2023 marks the 14th year of this incredible traveling concert featuring the best songs from the '60s and '70s. Together, these amazing acts produced 61 Billboard chart records!
Enjoy a nostalgic evening with:
THE TURTLES featuring Flo & Eddie
Harmony-Rich Pop Group
Happy Together • She'd Rather Be with Me • Elenore
LITTLE ANTHONY of Little Anthony and the Imperials
Rock & Roll Hall of Fame Inductee
Tears on My Pillow • Goin' Out of My Head • Hurt So Bad
GARY PUCKETT & THE UNION GAP
Six Consecutive Gold Records
Young Girl • Lady Willpower • Woman, Woman
THE VOGUES
Vocal Group Hall of Fame Inductee
Five O'Clock World • You're the One • Turn Around, Look at Me
THE CLASSICS IV
The Original Soft Southern Rock Band
Spooky • Stormy • Traces
THE COWSILLS
Harmonious Family Act
The Rain, the Park and Other Things • Hair • Love American Style
Ticket Information
Ticket prices range from $44.00 to $92.50 plus applicable service charges. Ticket prices subject to change without notice. Tickets are available by visiting the Genesee Theatre Box Office, all Ticketmaster outlets, Ticketmaster.com & Ticketmaster charge by phone at 800-982-2787.
Price
$44.50, $59.50, $74.50, $92.50
Print This Page