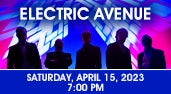 Date

Apr

15

, 2023

Price

$25.00

Availability
Electric Avenue: 80's MTV Experience
Take On Me Don't You Forget About Me
Footloose Another One Bites the Dust
Down Under Let's Dance
Sussudio Sledgehammer
Let's Go Crazy Private Eyes
Relax Careless Whisper
Electric Avenue – The 80's MTV Experience is the most accurate, jaw-dropping tribute show this side of 1988, when massive synths, drum machines and music videos ruled the day.
Travel back in time and enjoy great music by Thomas Dolby, Soft Cell, Naked Eyes, Eddy Grant, Tears for Fears, Devo, Level 42 and more.
One fan said, "Incredible! Every song was as good as the original or better." In fact, their covers are so accurate that Warner Music, Elektra Records and Mute Records each sent them a cease-and-desist order! (The orders were later retracted.). You can't buy that kind of press.
Grab your acid-washed jeans and hair gel and jump into our traveling time machine. Sure, Johnny Hates Jazz, but everyone loves Electric Avenue!
Ticket Information
Tickets are priced at $25.00 plus applicable service charges. Tickets are available by visiting The Genesee Theatre Box Office, all Ticketmaster Outlets, Ticketmaster.com & Ticketmaster charge by phone a 800-982-2787.
Group Sales
For this show, groups of 10 or more may receive 10% off.
Please fill out the form below to inquire, or you may call our Box Office at 847-263-6300 or email us at tickets@geneseetheatre.com.
Print This Page