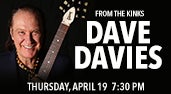 Date

Apr

19

, 2018

Price

$39.50, $49.50, $65.00, $89.50

Availability
Dave Davies of the Kinks with special guest The Smithereens
Guest Frontman Robin Wilson of the Gin Blossoms
As lead guitarist and co-founder of The Kinks, Dave Davies was a driving force behind one of the most influential rock bands ever. Like the Beatles and Rolling Stones, The Kinks helped alter the American music landscape during the British Invasion of the '60s. His groundbreaking, distorted guitar tone and classic guitar riffs gave the band a harder edge that resonated with young fans. That raw sound paved the way for punk, heavy metal and grunge years later and inspired bands from Van Halen to Green Day.
A prolific songwriter, the Rock and Roll Hall of Fame inductee's music has been featured in films by John Carpenter and on TV shows like The Sopranos.
He returns to the U.S. to indulge audiences in an array of Kinks classics, a few solo favorites and tracks from his new album, Open Road.
You Really Got Me
Lola
Come Dancing
All Day and All of the Night
A Well Respected Man
Tired of Waiting for You
Sunny Afternoon
Waterloo Sunset
Till the End of the Day
Starstruck
Opening for this legendary rocker is special guest The Smithereens, known for its catchy, '60s-influenced power pop that attracted countless of alternative rock fans throughout the '80s and '90s. The band welcomes the Gin Blossoms' Robin Wilson on lead vocals in a rare tribute to Pat DiNizio!
A Girl Like You
Too Much Passion
Blood and Roses
Only a Memory
Top of the Pops
Behind the Wall of Sleep
Blue Period
Ticket Information
Tickets range from $39.50 - $89.50 plus applicable service charges. Tickets are available by visiting the Genesee Theatre Box Office, all Ticketmaster outlets, Ticketmaster.com & Ticketmaster charge by phone at 800-982-2787.
Price
$39.50, $49.50, $65.00, $89.50
Print This Page