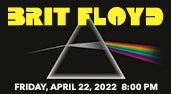 Date

Apr

22

, 2022

Price

$37.50, $57.50, $72.50, $172.50

Availability
Brit Floyd World Tour 2022
The World's Greatest Pink Floyd Tribute Show
Money Another Brick in the Wall
Time Comfortably Numb
Hey You Wish You Were Here
Us and Them Shine On You Crazy Diamond
"The perfect rock show." – Los Angeles Times
"Magnificent…a musical masterpiece." – Ticketmaster
With its topflight musicians and visual effects, Brit Floyd – World Tour 2022 faithfully recreates the scale and pomp of Pink Floyd's final concert. Since 2011, the show has been selling out venues around the word, from London's Royal Albert Hall to LA's historic Greek Theatre.
The show features the band's greatest songs from its timeless albums, including a note-for-note performance of Echoes. The stunning multimillion dollar light show, enormous circular screen, videos, lasers and inflatables complete the full-scale production.
If you've always wanted to experience a Pink Floyd concert in all its sensory opulence, this is as close as it gets!
Ticket Information
Tickets range from $37.50 to $172.50 plus applicable service charges. Tickets are available by visiting the Genesee Theatre Box Office, all Ticketmaster outlets, Ticketmaster.com & Ticketmaster charge by phone at 800-982-2787.
VIP Package Available
Available through Ticketmaster.com only.
Brit Floyd World Tour 2022 - VIP Meet and Greet Soundcheck Experience ($172.50)
Package includes:
• Premium seat
• A special Brit Floyd Meet & Greet Soundcheck Experience tour pass
• Exclusive opportunity to browse through all the show merchandise.
• Special bonus performance of two classic Pink Floyd songs not featured in the evening performance.
• Meet & Greet with members of Brit Floyd

Price
$37.50, $57.50, $72.50, $172.50
Print This Page