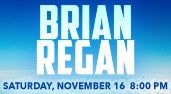 Date

Nov

16

, 2019

Price

$39.50, $49.50, $59.50

Availability
Brian Regan
Presented by Live Nation
"The best stand-up working today. Period." - Patton Oswalt
"He is one of my favorites." - Jerry Seinfeld
"Simply the best!" - Dennis Miller
Admired by his peers, Brian Regan has distinguished himself as one of the premier comedians today. He possesses that rare knack for finding the funny in the most mundane situations – like trying to decide how many fig Newtons® to eat in one sitting.
With several successful comedy specials under his belt, including the first-ever live broadcast of a stand-up special on Comedy Central, the Loudermilk star is at the peak of his career.
On stage, the veteran comic delivers the perfect blend of wit, observational humor and physicality that few can match. His hilarious stories and superb timing will keep you laughing throughout the evening!
Oh, sure, you'll find yourself hyperventilating one minute and in tears the next, and you'll probably leave The Genesee with sore facial muscles. But it will be so worth it. Presented by Live Nation.
Ticket Information
Tickets range from $39.50 to $59.50 plus applicable service charges. Tickets are available by visiting the Genesee Theatre Box Office, all Ticketmaster outlets, Ticketmaster.com & Ticketmaster charge by phone at 800-982-2787.
Price
$39.50, $49.50, $59.50
Print This Page