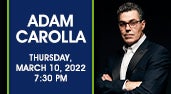 Date

Mar

10

, 2022

Price

$39.50, $49.50

Availability
Adam Carolla is Unprepared
The following show has been rescheduled.
New Date: Thursday, March 10, 2022 at 7:30 PM
Previous Dates: Thursday, October 1, 2020 ; Thursday, May 6, 2021
Previously purchased tickets will automatically transfer to the new date. Refunds and additional assistance available by contacting the Genesee Theatre Box Office at 847-263-6300 or Tickets@GeneseeTheatre.com.
We appreciate your understanding. Tickets for the new show date are on sale now!
*********************************************************************
The Adam Carolla Show Crank Yankers
The Man Show Loveline
Road Hard No Safe Spaces
Not Taco Bell Material President Me
Comedian, podcast host and best-selling author Adam Carolla is set to bring on the laughs in Adam Carolla Is Unprepared. In this one-of-a-kind improvisational show, the outspoken funnyman will perform his standup based on one-word audience suggestions pulled at random.
It's a rare situation for the popular podcast host who, in 2011, broke the Guinness World Record for the most downloaded podcast of all time, stretching back to the Big Bang. It's a record that still stands.
Whether it's current events, relationships, airport security or specialty pizzas, everything is fair game, so expect the unexpected!
Ticket Information
Tickets range from $39.50 to $49.50 plus applicable service charges. Tickets are available by visiting the Genesee Theatre Box Office, all Ticketmaster outlets, Ticketmaster.com & Ticketmaster charge by phone at 800-982-2787.
Print This Page