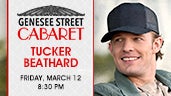 Date

Mar

12

, 2021

Price

$99.00
Tucker Beathard
Rock On I Ain't Without You
Faithful You Would Think
Find Me Here 20-10 Tennessee
Leave Me Alone Momma and Jesus
Better Than Me Chasing You with Whiskey

In 2016, Tucker Beathard started turning heads, becoming one of country music's hottest young acts. He instantly caught the attention of country music fans with his homegrown sound, embodying what NPR says is "a bit more edge than Nashville is accustomed to."

On stage, the singer-songwriter is the real deal, interacting with the audience and delivering a unique blend of what some have called, "country meets alt-rock."

Beathard comes from a gifted family – his brother is an NFL quarterback and his grandfather is a former NFL GM with four Super Bowl rings. But it was his father Casey, two-time BMI Songwriter of the Year, who had the biggest influence. So much so, that Tucker turned down a baseball scholarship to pursue a music career and blaze his own path in country music.

Tickets include free parking and tableside bar service.
Limited capacity per local mitigation guidelines. All tickets sold in groups of 2 and are priced per person. Only 2 people per table allowed. Social distancing and deep cleaning protocols will be in place. Masks are required.
Ticket Information
Tickets are available by calling or visiting the Genesee Theatre Box Office at 847-263-6300 or [email protected].
Print This Page