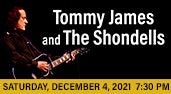 Date

Dec

4

, 2021

Price

$42.50, $54.50, $74.50, $89.50

Availability
Tommy James and the Shondells
With Special Guest The Box Tops
This show has been rescheduled.

Previous Dates: Saturday, October 17, 2020 & Saturday, April 3, 2021
New Date: Saturday, December 4, 2021 at 7:30 PM

Tickets that were purchased for the previous show dates will automatically transfer to the new date. If you can attend, no action is required. Refunds and additional assistance is available by contacting The Genesee Theatre Box Office at (847) 263-6300 or [email protected]
We apologize for any inconvenience.
Tickets for the new date are on sale now.

****************************************************

Mony Mony I Think We're Alone Now
Crimson and Clover Crystal Blue Persuasion
Hanky Panky Draggin' the Line

Tommy James' success is extraordinary. Early in his career, he and The Shondells scored more than a dozen Top 40 hits in just four years. In 1969, they sold more records than The Beatles! In all, Tommy James would go on to sell over 100 million records with nine platinum albums and 23 gold records to his credit.
Other great artists have recorded his songs, including Joan Jett, Prince and Bruce Springsteen, exposing the music legend to new generations of fans. With so many worldwide hits on the radio, television and in film, it's been said that his songs can be heard continuously, every day, in every country!

Ticket Information
Tickets range from $42.50 to $89.50 plus applicable service charges. Tickets are available by visiting the Genesee Theatre Box Office, all Ticketmaster outlets, Ticketmaster.com & Ticketmaster charge by phone at 800-982-2787.
Price
$42.50, $54.50, $74.50, $89.50
Print This Page