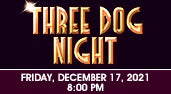 Date

Dec

17

, 2021

Price

$85.50, $65.50, $45.50

Availability
Three Dog Night
Joy to the World Mama Told Me (Not to Come)
Black and White Shambala
One An Old Fashioned Love Song
Liar Never Been to Spain
Celebrate Easy to Be Hard
From 1969-1975, nobody produced more Top 10 hits, moved more records or sold more concert tickets than Three Dog Night. They churned out an astonishing 21 consecutive Top 40 songs, resulting in 11 Top 10 hits, three #1 singles and 12 straight gold albums.
And with three distinct vocalists, their music is incredibly diverse, landing songs on the pop, rock, country and R&B charts. As singer Danny Hutton told The Fayetteville Observer, "If you don't like a song, just wait. You'll probably like the next one."
Their concerts are all about having a good time. "We're not political," Hutton went on to say. "We just like to get people…to forget about everything and leave with a big smile on their face."
Come out and "Celebrate" the music of Three Dog Night and bring a little joy to your world.
Ticket Information
Tickets range from $45.50 to $85.50 plus applicable service charges. Tickets are available by visiting the Genesee Theatre Box Office, all Ticketmaster outlets, Ticketmaster.com & Ticketmaster charge by phone at 800-982-2787.
Price
$85.50, $65.50, $45.50
Print This Page