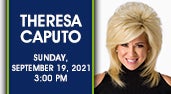 Date

Sep

19

, 2021

Availability
Theresa Caputo Live! The Experience
The following show has been rescheduled.
New Date: Sunday, September 19, 2021 at 3:00 PM – NEW SHOW TIME!
Previous Dates: Saturday, April 25, 2020 ; Sunday, September 27, 2020; Friday, March 5, 2021
Previously purchased tickets will automatically transfer to the new date. Refunds and additional assistance available by contacting the Genesee Theatre Box Office at 847-263-6300 or [email protected]
We appreciate your understanding and look forward to entertaining you soon.
*********************************************************

Psychic Medium TV Celebrity
Live Readings Best-Selling Author
Theresa Caputo, from TLC's hit show, Long Island Medium, will be appearing live at the Genesee Theatre on Saturday, April 25 at 7:30PM. Theresa will share personal stories about her life and explain how her gift works. She will deliver healing messages to audience members and give people comfort knowing that their loved ones who passed are still with them, just in a different way. Tickets go on-sale Friday, November 15 at 10AM and can be purchased at ticketmaster.com, by phone 847-263-6300, and the Genesee Theatre box office. Tickets start at $39.75 (plus applicable service charges) and are subject to change. Purchasing a ticket does not guarantee a reading.
"The Experience" brings Theresa face-to-face with her fans, as she lets spirit guide her through the audience. A video display ensures everyone in the venue has an up-close-hands-on experience regardless of seat location. "The experience isn't about believing in mediums. It's about witnessing something life-changing" says Theresa Caputo. "It's like Long Island Medium live, witnessing first-hand spirit communication."
Ticket Information
Ticket prices start at $39.75.
Ticket prices subject to change without notice.
VIP Package Available
Pre-Show Photo Op
Pricing starts at $49.75.
VIP Patrons will also receive a custom Theresa Caputo souvenir journal as part of their purchase at the pre-show event. Patrons are to arrive at 11:00am for a 12:00pm photo taken by a professional photographer (no personal cameras or smart phones will be allowed). Your photo will be ready to download within three business days of the event. Instructions on how to get your photo will be handed to you during the VIP Pre-show event. Please note that neither autographs or readings will be available. When arriving at the venue, please head to the box office for further instructions.
Print This Page