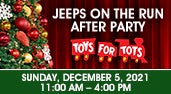 The Genesee Theatre Presents Jeeps on the Run After Party
MUSIC PHOTOS WITH SANTA
FOOD VENDORS MOVIES
Join us after the Jeeps on the Run toy drive benefiting Toys for Tots and to celebrate the holidays! Enjoy festive live music, Holiday movies on the big screen, photos with Santa, food vendors, raffle prizes, face painting and more. Fun for all ages!
Jeeps on the Run is a not for profit organization created to help charity organizations through the year. The 9th annual Jeeps on the Run event will benefit Toys for Tots.
For additional questions, contact our Special Events Coordinator at sandy.pauly@geneseetheatre.com or 847-406-3158.
Ticket Information
Register for Jeeps on the Run here.
You must be registered for the Jeeps on the Run event to attend the after party.
Print This Page