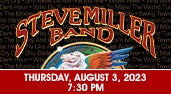 Date

Aug

3

, 2023

Price

$99, $129, $149, $179

Availability
Steve Miller Band
The Joker Abracadabra
Space Cowboy Fly Like an Eagle
Jet Airliner Take the Money and Run
Rock'n Me Jungle Love
Swingtown Living in the U.S.A.
Rock & Roll Hall of Famer Steve Miller has written so many memorable hits that his music has become legendary. The mere mention of one of them gets the song stuck in your head.
Throughout the '70s, the gangster of love honed his craft until he developed the Midas touch, writing a string of hits that cracked the code of FM radio. Records were flying off the shelves and the band sold out arenas everywhere they went.
On stage, the prolific musician is a captivating storyteller, spinning yarns about his rock 'n' roll adventures, right down to the guitars he used, and his panache for poetic words like "pompatus" – a word he simply made up. The stories alone are worth the price of admission!
Whether you call him the space cowboy, the gangster of love or even Maurice, there's one thing you have to do: go on, get your tickets and run! Hoo-hoo-hoo.
Ticket Information
Tickets range from $99.00 to $179.00 plus applicable service charges. Tickets are available by visiting The Genesee Theatre Box Office, all Ticketmaster outlets, Ticketmaster.com and Ticketmaster charge by phone at 800-982-2787.
Price
$99, $129, $149, $179
Print This Page