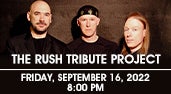 Date

Sep

16

, 2022

Price

$25.00, $40.00

Availability
The RUSH Tribute Project
Tom Sawyer Subdivisions
Limelight Freewill
Fly by Night Closer to the Heart
New World Man The Spirit of Radio
The Rush Tribute Project pays homage to one of the most innovative and influential bands in rock music. Known for their profound musicianship, complex compositions and imaginative lyrics, Rush is revered by many as the patron saint of progressive rock.
Using vintage instruments, multi-camera projections and state-of-the-art lighting, RTP captures the spirit of Rush in every live performance. Over the past 10 years, they've become one of the premier Rush tribute acts, performing throughout North America and around the world, including the mother of all Rush events: RushCon!
It will be an unparalleled concert experience for the most discerning Rush fans and those who just enjoy great music.
Ticket Information
Tickets range from $25.00 to $40.00 plus applicable service charges. Tickets are available by visiting the Genesee Theatre Box Office, all Ticketmaster outlets, Ticketmaster.com & Ticketmaster charge by phone at 800-982-2787.
Print This Page