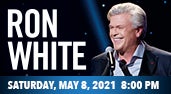 Date

May

8

, 2021

Price

$45.00, $60.00, $75.00, $174.00, $300.00

Availability
Ron White
You Can't Fix Stupid A Little Unprofessional
Behavioral Problems If You Quit Listening, I'll Shut Up
Comedian Ron "Tater Salad" White brings his provocative humor to The Genesee for one night of side-splitting standup. The talented funnyman delivers his bawdy jokes the only way he can: with a cigar in his hand and an adult beverage by his side.
In his show, the gifted storyteller shares humorous tales about growing up in a small Texas town, experiences on the road and everyday life. His delivery is unmistakable.
White rose to fame in the early 2000s as a member of Jeff Foxworthy's Blue Collar Comedy Tour. Today, the two-time Grammy® Award-nominated comic is one of the best-known, top grossing comedians in America. Three of his comedy albums reached number one on the Billboard Comedy Charts and a fourth was certified gold.
His rebel image and edgy humor led to several successful Comedy Central specials, a book that appeared on The New York Times Best Sellers list and roles on TV and the silver screen, including Roadies, Sex in the City 2 and Horrible Bosses. For Mature Audiences
Ticket Information
Tickets range from $45.00 to $75.00 plus applicable service charges. Tickets are available by visiting the Genesee Theatre Box Office, all Ticketmaster outlets, Ticketmaster.com & Ticketmaster charge by phone at 800-982-2787.
VIP Packages Available
Available through Ticketmaster.com only.
200 Proof VIP Experience ($300.00)
• Premium seat ticket (typically in the first 5 rows)
• Q&A session with Ron White
• Photo with Ron White
• VIP access pass personally signed by Ron White
• Autographed note from Ron White
• Exclusive Merchandise item.
100 Proof VIP Experience ($174.00)
• Premium seat ticket
• Autographed note from Ron White
• Exclusive Merchandise item.
Price
$45.00, $60.00, $75.00, $174.00, $300.00
Print This Page