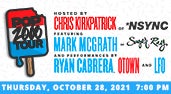 Date

Oct

28

, 2021

Price

$40.00, $55.00, $80.00

Availability
POP 2000 Tour
Hosted by Chris Kirkpatrick of *NSYNC, Mark McGrath of Sugar Ray, O-Town, Ryan Cabrera & LFO
Chris Kirkpatrick of *NSYNC is filling in for host Lance Bass. Congratulations to Lance on the news of his twins!

POP 2000 Tour
Hosted by Chris Kirkpatrick of *NSYNC
With Mark McGrath, O-Town, Ryan Cabrera and LFO
Relive the music of the post-Y2K era! POP 2000 Tour features the decade's biggest songs and reads like a who's who of the pop charts.

Bye Bye Bye I Want You Back
It's Gonna Be Me Tearin' Up My Heart
As a member of *NSYNC, Chris Kirkpatrick and the popular boy band have become a household name. The singer, actor and producer has helped the vocal group sell an impressive 60 million-plus records and counting.

Every Morning Fly
When It's Over Someday
An ever-present pop culture personality, singer Mark McGrath helped Sugar Ray produce a string of top 10 hits and several multi-platinum albums that continue to receive airplay.

Liquid Dreams All or Nothing
We Fit Together These Are the Days
O-Town's story began in 1999, when Making the Band chronicled their sudden rise to success. The former boy band and Radio Music Award nominee continues to attract fans.

On the Way Down True
Take It All Away Shine On
Ryan Cabrera is behind the smash 2004 album Take It All Away, which hit #8 on the Billboard Top 200. The singer-songwriter was also featured heavily on MTV's Ashlee Simpson Show and The Hills.
Summer Girls Girl on TV
Every Other Time Can't Have You
LFO burst onto the scene in 1999 with their catchy pop/hip-hop sound. Today, Brad Fischetti keeps the name alive, performing their memorable songs to fans both old and new.

Ticket Information
Tickets range from $40.00 to $80.00 plus applicable service charges. Tickets are available by visiting the Genesee Theatre Box Office, all Ticketmaster outlets, Ticketmaster.com & Ticketmaster charge by phone at 800-982-2787.
VIP Packages Available
Various VIP Packages will be offered directly through the individual acts websites.
Group Sales
For this show, groups of 10 or more may receive 10% off.
Please fill out the form below to inquire, or you may call our Box Office at 847-263-6300 or email us at [email protected].
Price
$40.00, $55.00, $80.00
Print This Page