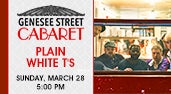 Date

Mar

28

, 2021

Price

$99.00
Plain White T's: Acoustic Duo
Hey There Delilah 1, 2, 3, 4
Rhythm of Love Figure It Out

If you were listening to the radio 15 years ago, you were probably singing along to Plain White T's. The group formed in Chicago in 1997 and hit its stride in the mid 2000s, producing three platinum singles, two gold albums and earning the guys two Grammy® nominations.

On stage, the T's are anything but plain, offering up an adrenaline rush of melodic pop/rock tunes juxtaposed with their beautiful ballads. Reminisce to the songs from their heyday and hear new tracks from their current album, Parallel Universe.

Tickets include free parking and tableside bar service.
Limited capacity per local mitigation guidelines. All tickets sold in groups of 2 and are priced per person. Only 2 people per table allowed. Social distancing and deep cleaning protocols will be in place. Masks are required.


Ticket Information
Tickets are available by calling or visiting the Genesee Theatre Box Office at 847-263-6300 or [email protected].
Print This Page