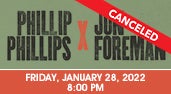 CANCELED - Phillip Phillips and Jon Foreman
Phillip Phillips & Jon Foreman have canceled their tour, including their show at The Genesee on Friday, January 28, 2022. Refunds are available at the point of purchase. Ticketmaster purchases will be automatically refunded. Additional assistance is available by contacting The Genesee Theatre Box Office at (847) 263-6300 or Tickets@GeneseeTheatre.com.
We apologize for any inconvenience.
**************************************************************
Home Gone, Gone, Gone
Raging Fire Unpack Your Heart
Since releasing his multi-platinum debut single Home in 2012, Phillip Phillips has produced three albums, with two peaking in the top 10. Home was his coronation song after winning season 11 of American Idol, and the is best-selling song in the show's history.
With a sound reminiscent of Dave Matthews, fans can't get enough of the singer's soulful vocals and earthy, guitar-fueled songs. "Phillips put on an awesome concert. This was our 3rd time seeing him," said one reviewer. Another said, "This was one of the best concerts I have ever attended." The positive reviews go on and on. No doubt, more will be written after his performance at The Genesee.
Your Love Is Strong Dare You to Move (Switchfoot)
Resurrect Me Only Hope (Switchfoot)
Jon Foreman, lead singer and guitarist of the Grammy® Award-winning alt-rock band Switchfoot, returns to the solo stage in support of his 2021 albums, Departures and Roll Tape: Live From Melody League Studios.
With his busy main gig, solo gig and side project Fiction Family with Nickel Creek guitarist Sean Watkins, the singer-songwriter shows he has no shortage of musical inspiration. In 2015, he set out to play 25 shows in 24 hours, leading to the feature documentary 25 IN 24.
With his passionate delivery, graceful melodies and emotionally-charged lyrics, fans flock to his solo shows whenever he comes to town. And who knows, he just might play a few songs from Switchfoot's latest release, interrobang.
Print This Page