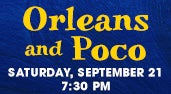 Date

Sep

21

, 2019

Price

$29.00, $49.00, $59.00

Availability
Orleans & Poco
Here's a rare chance to see two iconic bands on the same night, performing their greatest hits!
Orleans
---
Still the One Dance with Me
Love Takes Time Let There Be Music
Reach Time Passes On
When it comes to transporting music fans back to the sunny '70s, few bands can top the magic of Orleans. With their pitch-perfect harmonies, lockstep guitar leads and catchy melodies, they send out a refreshing vibe wherever they go. As these gifted musicians take the stage and perform each satisfying selection, audiences can't help but move to the rhythm and sing along.
Poco
---
Call It Love Keep on Tryin'
Crazy Love Heart of the Night
Rose of Cimarron A Good Feelin' to Know
Poco became one of the first vocal groups to meld country and rock into a unique sound all its own. Using rich harmonies, country instruments and rock 'n' roll rhythms, the band produced several critically-acclaimed albums, including 1969's Pickin' Up the Pieces, which Rolling Stone called "the perfect album." Whether you're a longtime "Poconut" or discovering the band for the first time, their music continues to captivate.
Ticket Information
Tickets range from $29.00 to $59.00 plus applicable service charges. Tickets are available by visiting the Genesee Theatre Box Office, all Ticketmaster outlets, Ticketmaster.com & Ticketmaster charge by phone at 800-982-2787.
Group Sales
For this show, groups of 10 or more may receive 10% off.
Please fill out the form below to inquire, or you may call our Box Office at 847-263-6300 or email us at [email protected].
Price
$29.00, $49.00, $59.00
Print This Page