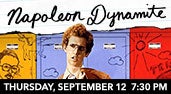 Date

Sep

12

, 2019

Price

$35.00, $45.00, $55.00, $126.00 (VIP)

Availability
Napoleon Dynamite
A Conversation with Jon Heder (Napoleon), Efren Ramirez (Pedro), and Jon Gries (Uncle Rico)
3 MTV Movie Awards U.S. Comedy Arts Festival Award
4 Teen Choice Awards Bravo's list of 100 Funniest Movies
It's been 15 years since the indie film Napoleon Dynamite came out of nowhere to become the sleeper hit of 2004. With some of the most quotable lines of any film in recent memory, this quirky cult comedy has had fans talking about ligers, tater tots and voting for Pedro ever since. And who could forget Napoleon's sweet dance moves at the end!
This fun-filled evening includes a screening of the movie followed by a freewheeling, moderated discussion with actors Jon Heder (Napoleon), Efren Ramirez (Pedro) and Jon Gries (Uncle Rico).
So grab your moon boots and ChapStick® (in case your lips hurt real bad) and celebrate the 15th anniversary of this comedy classic. Will tickets go fast? Heck yes, they will! GOSH!
Ticket Information
Tickets range from $35.00 to $126.00 plus applicable service charges. Tickets are available by visiting the Genesee Theatre Box Office, all Ticketmaster outlets, Ticketmaster.com & Ticketmaster charge by phone at 800-982-2787.
VIP Package Available
$126.00 per package
Includes seat with preshow photo op with Jon Heder, Efren Ramierz & Jon Gries.
Price
$35.00, $45.00, $55.00, $126.00 (VIP)
Print This Page