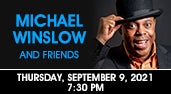 Date

Sep

9

, 2021

Price

$25.00, $40.00, $60.00

Availability
Michael Winslow & Friends
Featuring Marc Price, Mindy Rickles, & Camilla Cleese
Police Academy (1-7) Spaceballs
Sharknado 3 The Gong Show
Nice Dreams I Am My Own Walkman
Michael Winslow found his voice as Sgt. "Motor Mouth" Jones in the hilarious Police Academy movies. Known as the "Man of 10,000 Sound Effects," he can imitate everything from airplanes to machine guns to Jimi Hendrix playing his wailing guitar on Purple Haze.
This amazing comedian and "voicetramentalist" is astonishing to see live and will have everyone in stitches!
Also taking the stage is popular stand-up comedian Marc Price, who played Skippy on the '80s sitcom Family Ties. The Los Angeles Times calls him "refreshingly bright" while The Boston Globe says he's "wickedly funny."
Kicking off the evening are two funny women with the comedy gene encoded in their DNA, Mindy Rickles and Camilla Cleese. Mindy is the daughter of the late comedy legend Don Rickles and Camilla is the daughter of famed actor and comedian John Cleese.
A portion of all ticket sales will be donated to the Waukegan Police and Fire Memorial Fund, offering financial support and holiday gifts to surviving family members of fallen heroes.
Purchase a commemorative patch and you'll be entered into a drawing to win a 4-day cabin stay in Gatlinburg, TN! Patches can be added to your ticket order or purchased the day of the show.
Ticket Information
Tickets range from $25.00 to $60.00 plus applicable service charges. Tickets are available by visiting the Genesee Theatre Box Office, all Ticketmaster outlets, Ticketmaster.com & Ticketmaster charge by phone at 800-982-2787.
$5.00 of each ticket sold will be donated to the Waukegan Police & Fire Fund.
Purchase a Waukegan Police & Fire Memorial Fund patch for $10.00 each and be entered to win a free luxury cabin stay in Gatlinburg, Tennessee. Guest can purchase multiple for more chances to win. Winner will be announced at the show.
Price
$25.00, $40.00, $60.00
Print This Page