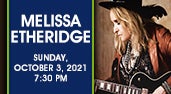 Date

Oct

3

, 2021

Price

$45.00, $65.00, $80.00, $175.00, $250.00, $350.00

Availability
Melissa Etheridge
The following show has been rescheduled.

New Date: Sunday, October 3, 2021 at 7:30 PM
Previous Dates: Thursday, March 26, 2020 ; Saturday, September 26, 2020

Previously purchased tickets will automatically transfer to the new date. Refunds and additional assistance available by contacting the Genesee Theatre Box Office at 847-263-6300 or [email protected]
We appreciate your understanding and look forward to entertaining you soon.

************************************************************
I'm the Only One Come to My Window
If I Wanted To I Want to Come Over
Ain't It Heavy Bring Me Some Water
No Souvenirs I Need to Wake Up
Known for her confessional lyrics and raspy, smoky vocals, Melissa Etheridge stormed onto the American rock scene in 1988 with the release of her critically acclaimed self-titled debut album. Five years later, she hit her commercial and artistic stride with her fourth LP, Yes I Am.
As one of America's favorite female singer-songwriters, the Grammy® and Academy Award winner continues to garner fans with her latest release and tour, Melissa Etheridge 2020 Tour.
Don't miss your chance to see the artist that Edge Media Network says is "a singer who can fire it up like Janis Joplin, touch the heart like Elvis Presley and steam up the windows like her musical hero, Otis Redding."
Ticket Information
Tickets range from $45.00 to $350.00 plus applicable service charges. Tickets are available by visiting the Genesee Theatre Box Office, all Ticketmaster outlets, Ticketmaster.com & Ticketmaster charge by phone at 800-982-2787.
VIP Packages Available
Only available through Ticketmaster.com.
Front Row/Photo op Package ($350.00)
• One front row ticket
• Exclusive preshow photo op with Melissa Etheridge
• Specially designed Melissa Etheridge raglan tour shirt (exclusive to VIP package only!)
• Limited edition tour poster; autographed by Melissa Etheridge
• Melissa Etheridge tote bag
• Commemorative Melissa Etheridge pin set
• Official Melissa Etheridge photo op laminate
• Commemorative ticket
• On-site VIP host
• Very limited availability
Photo op Package ($250.00)
• One premium reserved ticket located in rows 2-10
• Exclusive preshow photo op with Melissa Etheridge
• Specially designed Melissa Etheridge raglan tour shirt (exclusive to VIP package only!)
• Limited edition tour poster; autographed by Melissa Etheridge
• Melissa Etheridge tote bag
• Commemorative Melissa Etheridge pin set
• Official Melissa Etheridge photo op laminate
• Commemorative ticket
• On-site VIP host
• Very limited availability
VIP Tour Package ($175.00)
• One premium reserved ticket
• Specially designed Melissa Etheridge raglan tour shirt (exclusive to VIP package only!)
• Limited edition tour poster; autographed by Melissa Etheridge
• Melissa Etheridge tote bag
• Commemorative Melissa Etheridge pin set
• Commemorative ticket
• Limited availability
Price
$45.00, $65.00, $80.00, $175.00, $250.00, $350.00
Print This Page