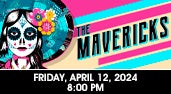 Date

Apr

12

, 2024

Price

$37, $55, $60, $75

Availability
The Mavericks
Dance the Night Away All You Ever Do Is Bring Me Down
All Night Long There Goes My Heart
Here Comes the Rain Back in Your Arms Again
Brand New Day Come Unto Me
Known for crisscrossing musical boundaries with abandon, The Mavericks are a well-oiled music machine that has charmed audiences for over 30 years.
This eclectic country-rock band adds Latin, Americana and rockabilly influences for a sound all their own. And with Raul Malo's velvety lead vocals, there's no way this band can miss!
Admired by critics, peers and fans alike, the band's accolades are numerous, including a Grammy® Award from eight nominations, two Country Music Association Awards and three Academy of Country Music Awards. In 2021, they won the Trailblazer Award from the Americana Music Association.
Today, The Mavericks are one of the best live bands in the country. With their toe-tapping shuffles, romantic boleros and pulsating rhythms, there's no way you can sit still. A horn section and nimble accordion player add depth to their sound.
Expect a show like no other from this ultra-cool band. The energy is hypnotic, and their varied set list only gains momentum throughout the evening.
Get ready to dance the night away because everyone around you will!
Ticket Information
Tickets range from $37.00 to $75.00 plus applicable service charges. Tickets are available by visiting or calling The Genesee Theatre Box Office, and Ticketmaster.com.
Print This Page