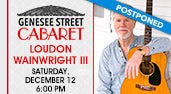 Date

Dec

12

, 2020

Price

$99.00
POSTPONED - Loudon Wainwright III
Due to public health concerns surrounding Covid-19, we are complying with Illinois Governor J.B. Pritzker's mandate to temporarily close. This event is affected and will be postponed to a later date.
Original Date: Saturday, December 12, 2020 at 6 PM
New Date: TBD
Previously purchased tickets will automatically transfer to the new date once the new date is determined. Refunds and additional assistance available by contacting the Genesee Theatre Box Office at 847-263-6300 or [email protected].

We appreciate your patience.

***********************************************************

Daughter When You Leave
Lullaby The Swimming Song
Motel Blues One Man Guy
I'm Alright A Perfect Day

Loudon Wainwright III has been charming listeners since the early '70s with his honest, anecdotal songs infused with his signature wit and cheeky humor.

The gifted folk singer-songwriter has recorded 25 studio albums, including the 2010 Grammy® Award-winning High, Wide & Handsome: The Charlie Poole Project. Loudon is perhaps best known for the novelty song Dead Skunk, which became a Top 20 smash in 1973. Many notable musicians have recorded his music, including Bonnie Raitt, Johnny Cash and Earl Scruggs.

In addition to his musical talents, Loudon is an accomplished actor. His film credits include The 40-Year-Old Virgin, The Aviator and Big Fish. He's also appeared on TV's Parks and Recreation and Undeclared. Some may remember him as Captain Calvin Spalding, the "singing surgeon," on the hit TV show M*A*S*H.

Always warm and witty on stage, his live performances are not just about his timeless tapestry of music, but also the playful, engaging dialogue he shares with his audience.

Fun Fact: Loudon was Dave's original sidekick on The David Letterman Show!

The NEW Genesee Street Cabaret, produced by The Genesee Theatre and located inside Three Brothers Theatre, is the perfect setting to safely bring live performances back to the community. These black box style events set the perfect mood for a unique and luxurious night out!

Tickets include free parking and tableside bar service.
Limited capacity per local mitigation guidelines. All tickets sold in groups of 2 and are priced per person. Only 2 people per table allowed. Social distancing and deep cleaning protocols will be in place. Masks are required.

Ticket Information
Tickets are available by calling or visiting the Genesee Theatre Box Office at 847-263-6300 or [email protected].
Print This Page