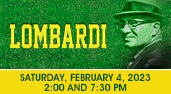 Dates

Feb

4

, 2023

Price

$27.00, $35.00, $49.00

Availability
LOMBARDI
Presented by Three Brothers Theater
Legendary Coach Revered Sports Figure
Inspirational Leader Larger-than-Life Persona
Perfection is not attainable, but if we chase perfection we can catch excellence. – Vince Lombardi
Lombardi brings to life the colorful and charismatic coach who led the Green Bay Packers to five NFL championships in seven years during the 1960s.
Presented by Three Brothers Theatre, this production of the acclaimed Broadway play offers a glimpse into the man, his relationships and his obsession with perfection.
Over 50 years later, people still read his quotes for inspiration. His influence transcends sports.
Filled with gripping drama and witty one-liners, this insightful play uses football merely as a backdrop. In fact, you don't have to be a football fan, just someone who enjoys great theater.
Lombardi was written by Academy Award® winner Eric Simonson and based on the best-selling biography When Pride Still Mattered: A Life of Vince Lombardi by Pulitzer Prize-winning author David Maraniss.
Ticket Information
Tickets range from $27.00 to $49.00 plus applicable service charges. Tickets are available by visiting the Genesee Theatre Box Office, all Ticketmaster outlets, Ticketmaster.com & Ticketmaster charge by phone at 800-982-2787.
Due to unforeseen circumstances the performances of Lombardi originally scheduled for Saturday, November 12, 2022 have been rescheduled to Saturday, February 4, 2023 at 2pm & 7:30pm.
Tickets that were purchased for the original show date will automatically transfer to the new corresponding date & time. If you can attend, no action is required. Refunds are available at the point of purchase.
Additional assistance is available by contacting The Genesee Theatre Box Office at (847) 263-6300 or Tickets@GeneseeTheatre.com.
We apologize for any inconvenience.
Tickets for the new date are on sale now
Group Sales
For this show, groups of 10 or more may receive 10% off.
Please fill out the form below to inquire, or you may call our Box Office at 847-263-6300 or email us at tickets@geneseetheatre.com.
Price
$27.00, $35.00, $49.00
Print This Page