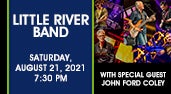 Date

Aug

21

, 2021

Price

$30.00, $50.00, $80.00

Availability
Little River Band
With special guest John Ford Coley
Little River Band has been rescheduled.
Previous Dates: Thursday, May 7; Thursday, June 11; Sunday, November 8; Thursday, January 28
Rescheduled Date: Saturday, August 21st, 2021 at 7:30 PM
Tickets that were purchased for the previous show date will automatically transfer to the new date. If you can attend, no action is required. Refunds are available at the point of purchase. Additional assistance is available by contacting The Genesee Theatre Box Office at (847) 263-6300 or [email protected].
We apologize for any inconvenience.
Tickets for the new date are on sale now.

*********************************************************

Reminiscing Lonesome Loser
Lady Cool Change
Happy Anniversary The Other Guy
Help Is on Its Way The Night Owls
Little River Band returns to The Genesee armed with an arsenal of memorable songs, superb musicianship and fantastic harmonies. During the '70s and '80s, the award-winning group produced a string of gold and platinum albums that generated 13 Top 40 hits, six of which climbed into the Billboard Top 10.
For 10 years, its smooth melodies and unforgettable lyrics saturated the FM airwaves. In 1978 alone, the band from Down Under was nominated for 14 Australian Rock Music Awards, winning the prize eight times. In 2004, the group was inducted into the Australian Recording Industry Association Hall of Fame.
I'd Really Love to See You Tonight
We'll Never Have to Say Goodbye Again
Love Is the Answer
Nights Are Forever without You
Special guest John Ford Coley made his mark as half of the legendary soft rock duo England Dan and John Ford Coley. The singer/songwriter opens the evening with unforgettable songs from the duo's heyday plus new selections from his solo career.
Sit back, relax and reminisce to some of the best Top 40 rock ever produced.
Ticket Information
Tickets range from $30.00 to $80.00 plus applicable service charges. Tickets are available by visiting the Genesee Theatre Box Office, all Ticketmaster outlets, Ticketmaster.com & Ticketmaster charge by phone at 800-982-2787.
Group Sales
For this show, groups of 10 or more may receive 10% off.
Please fill out the form below to inquire, or you may call our Box Office at 847-263-6300 or email us at [email protected]eetheatre.com.
Price
$30.00, $50.00, $80.00
Print This Page