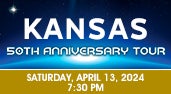 Date

Apr

13

, 2024

Price

$44.50, $59.00, $79.00, $124.50

Availability
Kansas: 50th Anniversary Tour
Another Fork in the Road
Dust in the Wind Carry On Wayward Son
Hold On Point of Know Return
Portrait (He Knew) Play the Game Tonight
Paradox The Pinnacle
No One Together Fight Fire with Fire
If you're a fan of '70s progressive rock, Kansas' 50th Anniversary Tour: Another Fork in the Road has to be on your bucket list.
This massive tour is named after the band's current three-CD release, featuring carefully selected songs from every Kansas album to commemorate its five decades of music.
Between 1974 and 1980, the band churned out eight gold, platinum and multi-platinum albums, propelling them to superstar status and leading to sold-out concerts everywhere. They've continued to carry on their way with exceptional music and live performances.
And while members have come and gone, their impressive sound has remained remarkably consistent – amazing vocals, high levels of musicianship, intricate orchestration and that iconic violin.
Ticket Information
Tickets range from $44.50 to $124.50 plus applicable service charges. Tickets are available by visiting The Genesee Theatre Box Office, all Ticketmaster outlets, Ticketmaster.com and Ticketmaster charge by phone at 800-745-3000.
Price
$44.50, $59.00, $79.00, $124.50
Print This Page