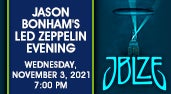 Date

Nov

3

, 2021

Price

$40.00, $60.00, $75.00

Availability
Jason Bonham's Led Zeppelin Evening
Stairway to Heaven Dazed and Confused
Whole Lotta Love Rock and Roll
Jason Bonham's Led Zeppelin Evening encompasses hits from the iconic band's entire career, including the albums Led Zeppelin, Led Zeppelin II, Led Zeppelin IV and Physical Graffiti.
This concert event celebrates the life and music of Jason's father, the legendary Led Zeppelin drummer John Bonham, by recreating "Led Zeppelin's music to such a degree that one can't help but close their eyes and simply listen…" – Classic Rock Revisited
Previous Dates: Saturday, June 13, 2020; Saturday, November 14, 2020; Saturday, May 1, 2020 at 7:00 PM
Rescheduled Date: Wednesday, November 3, 2021
Tickets that were purchased for the previous show date will automatically transfer to the new date. If you can attend, no action is required. Refunds are available at the point of purchase. Additional assistance is available by contacting The Genesee Theatre Box Office at (847) 263-6300 or [email protected].
Tickets for the new date are on sale now!
Ticket Information
Tickets range from $40.00 to $75.00 plus applicable service charges. Tickets are available by visiting the Genesee Theatre Box Office, all Ticketmaster outlets, Ticketmaster.com & Ticketmaster charge by phone at 800-982-2787.
Price
$40.00, $60.00, $75.00
Print This Page