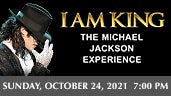 Date

Oct

24

, 2021

Price

$25.00, $35.00, $55.00, $99.00

Availability
I Am King: The Michael Jackson Experience
I Am King has been rescheduled.

New Date & Time: Sunday, October 24, 2021 at 7:00 PM
Previous Show Dates: Friday, October 16, 2020 ; Friday, March 26, 2021 at 8:00 PM

Tickets that were previously purchased will automatically transfer to the new date. If you can attend, no action is required. Refunds are available at the point of purchase. Additional assistance is available by contacting The Genesee Theatre Box Office at (847) 263-6300 or Tickets@GeneseeTheatre.com.
We apologize for any inconvenience.

Tickets for the new date are on sale now.

********************************************

Billie Jean Beat It
Thriller Bad
Off the Wall Human Nature
ABC Don't Stop 'Til You Get Enough
Rock with You Smooth Criminal
Black or White I Want You Back
I AM KING: The Michael Jackson Experience is a live, jaw-dropping show that will have you awestruck from the very start. Lookalike Michael Firestone nails the part right down to the King of Pop's signature kicks and spins. And his voice is so shockingly similar, you'll think he's lip-syncing – but he's not. He performs all the hits with great precision while moving to MJ's intense choreography.
Complete with costume changes, a live band and professional dancers, this show will give you goose bumps and leave you wanting more.
Ticket Information
Tickets range from $25.00 to $99.00 plus applicable service charges. Tickets are available by visiting the Genesee Theatre Box Office, all Ticketmaster outlets, Ticketmaster.com & Ticketmaster charge by phone at 800-982-2787.
Price
$25.00, $35.00, $55.00, $99.00
Print This Page