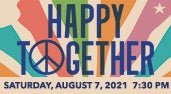 Date

Aug

7

, 2021

Price

$45.00, $57.50, $69.50, $164.50

Availability
Happy Together Tour 2021
The Happy Together show has been rescheduled to Saturday, August 7, 2021.
Details regarding the line-up of the new date will be released shortly.

Tickets that were purchased for the August 8th shows will automatically transfer to the new date. If you can still attend, no action is required. Refunds are available at the point of purchase. Additional assistance is available by contacting The Genesee Theatre Box Office at (847) 263-6300 or [email protected].
We apologize for the inconvenience. Tickets for the new date are on sale now.
*************************************************************
The Turtles, Chuck Negron, The Association, Mark Lindsay, The Buckinghams, The Vogues, The Cowsills
Happy Together Tour 2020 marks the 11th year of this incredible traveling concert featuring the best songs from the '60s and '70s.
Enjoy a nostalgic evening filled with dozens of Top 10 radio hits performed by these seven classic groups:
THE TURTLES
Harmony-Rich Pop Group and Your Musical Host
Happy Together, She'd Rather Be with Me
CHUCK NEGRON
Formerly of Three Dog Night
Joy to the World, Mama Told Me Not to Come
THE ASSOCIATION
Iconic Vocal Group
Windy, Cherish
MARK LINDSAY
Formerly of Paul Revere & the Raiders
Indian Reservation, Kicks
THE BUCKINGHAMS
Billboard's 1967 "Most Listened To Band"
Kind of a Drag, Susan
THE VOGUES
Vocal Group Hall of Fame Inductee
Five O'Clock World, You're the One
THE COWSILLS
Harmonious Family Act
The Rain, The Park & Other Things; Hair
Ticket Information
Tickets range from $45.00 to $164.50 plus applicable service charges. Tickets are available by visiting the Genesee Theatre Box Office, all Ticketmaster outlets, Ticketmaster.com & Ticketmaster charge by phone at 800-982-2787.
VIP Package Available
Available through Ticketmaster.com only.
Happy Together Premium Ticket Package ($164.50)
Package includes:
• One premium ticket
• One Happy Together VIP Gift Pack (Shipped to you after the show)
If fans have questions about the VIP offer, please direct them to [email protected] Their support team will be able to help address any issues/concerns they have.
Price
$45.00, $57.50, $69.50, $164.50
Print This Page