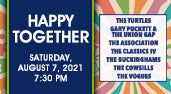 Date

Aug

7

, 2021

Price

$45.00, $57.50, $69.50, $164.50

Availability
Happy Together Tour 2021
Happy Together Tour 2021 marks the 12th year of this incredible traveling concert featuring the best songs from the '60s and '70s.
Enjoy a nostalgic evening filled with dozens of Top 10 radio hits performed by these seven classic groups:
THE TURTLES
Harmony-Rich Pop Group
Happy Together, She'd Rather Be with Me
GARY PUCKETT & THE UNION GAP – New this year!
Pop Group with Signature Vocals
Young Girl, Lady Willpower
THE ASSOCIATION
Iconic Vocal Group
Windy, Cherish
THE CLASSICS IV – New this year!
The Original Soft Southern Rock Band
Spooky, Stormy
THE BUCKINGHAMS
Billboard's 1967 "Most Listened to Band"
Kind of a Drag, Susan
THE VOGUES
Vocal Group Hall of Fame Inductee
Five O'Clock World, You're the One
THE COWSILLS
Harmonious Family Act
The Rain, the Park and Other Things, Hair
Ticket Information
Tickets range from $45.00 to $164.50 plus applicable service charges. Tickets are available by visiting the Genesee Theatre Box Office, all Ticketmaster outlets, Ticketmaster.com & Ticketmaster charge by phone at 800-982-2787.
VIP Package Available
Available through Ticketmaster.com only.
Happy Together Premium Ticket Package ($164.50)
Package includes:
• One premium ticket
• One Happy Together VIP Gift Pack (Shipped to you after the show)
If fans have questions about the VIP offer, please direct them to [email protected] Their support team will be able to help address any issues/concerns they have.
Price
$45.00, $57.50, $69.50, $164.50
Print This Page