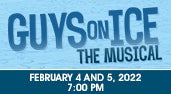 Dates

Feb

4 - 5

, 2022

Price

$24.00, $34.00, $44.00

Availability
Guys on Ice: The Musical
Ode to a Snowmobile Suit The Wishing Hole
The Beer in the Bucket When on Thin Ice
Fish is the Miracle Food Your Last Day on Earth
Guys on Ice is a delightful musical comedy set on a frozen lake in northern Wisconsin. Long-time friends Marvin and Lloyd are in their ice shanty fishing, swapping jokes, talking football and sharing stories about love and life, while waiting for the host of a local cable fishing show to show up.
Mix in some hilarious songs, great vocals and a couple of cold beers and you have a musical treat that's been entertaining audiences for over 20 years!
This fun, offbeat production is as fresh as a bluegill pulled from the icy waters of Sturgeon Bay. Could it be the best Wisconsin musical ever? Oh, it's a beauty, don't cha know!
Ticket Information
Tickets range from $24.00 to $44.00 plus applicable service charges. Tickets are available by visiting the Genesee Theatre Box Office, all Ticketmaster outlets, Ticketmaster.com & Ticketmaster charge by phone at 800-982-2787.
Group Sales
For this show, groups of 10 or more may receive 10% off.
Please fill out the form below to inquire, or you may call our Box Office at 847-263-6300 or email us at tickets@geneseetheatre.com.
Price
$24.00, $34.00, $44.00
Print This Page