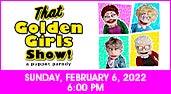 Date

Feb

6

, 2022

Price

$30.00, $40.00, $50.00

Availability
That Golden Girls Show! A Puppet Parody
"Hilarious." – Entertainment Weekly
"Revisit the Golden Girls as feisty puppets!" – New York Post
"Golden Girls fans have a treat in store." – Huffington Post
That Golden Girls Show! A Puppet Parody pays homage to the late '80s sitcom that won 11 Emmy Awards during its amazing run.
This live production is packed with snappy dialogue, daring conversations, great punch lines, quick-witted put downs, sizzling comebacks and of course, cheesecake!
Whether its Blanche's vanity, Rose's clueless questions, Dorothy's sarcastic darts or Sophia's mouth (considered a blunt weapon in 48 states), devoted fans will enjoy watching this delicious spoof of the comedy classic.
The show's charm is steeped in the way the performers capture the voice and mannerisms of the original characters. Classy and sassy, it's a delightful love letter to one of the funniest sitcoms of all time.
Ticket Information
Tickets range from $30.00 to $50.00 plus applicable service charges. Tickets are available by visiting the Genesee Theatre Box Office, all Ticketmaster outlets, Ticketmaster.com & Ticketmaster charge by phone at 800-982-2787.
Group Sales
For this show, groups of 10 or more may receive 10% off.
Please fill out the form below to inquire, or you may call our Box Office at 847-263-6300 or email us at tickets@geneseetheatre.com.
Price
$30.00, $40.00, $50.00
Print This Page