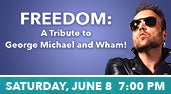 Date

Jun

8

, 2019

Price

$30

Availability
FREEDOM
A Tribute to George Michael & WHAM!
Careless Whisper Faith
Father Figure Wake Me Up before You Go-Go
Freedom Everything She Wants
I'm Your Man One More Try
Last Christmas Monkey
Very few musicians have written and performed more "mega-hits" than George Michael. So when the superstar passed away suddenly in 2016, singer/songwriter Jayden Frost made it his mission to share the artist's iconic songs with the world.
To create the ultimate concert experience, he teamed up with two industry heavyweights: George Michael's former bass player Deon Estus, who was also a member of Wham!; and Dave Schultz, who played keyboards in Berlin and the Goo Goo Dolls. With their help, Frost has created Freedom – A Tribute to George Michael and Wham!
Each song is reproduced to perfection – from fan favorites on Wham!'s debut album Make It Big to George Michael's solo albums Faith and Listen without Prejudice. Every production detail is considered, including costume changes and visual presentations that highlight the different eras of the singer's career.
If you're a George Michael fan or simply want to experience some great '80s music, this concert should be on your bucket list.
Ticket Information
Tickets are $30 per individual ticket plus applicable service charges. Tickets are available by visiting the Genesee Theatre Box Office, Ticketmaster.com & Ticketmaster charge by phone at 800-982-2787.
Tribute Show Package Available
Includes 5 Shows for $100 - Available through Ticketmaster.com or by visiting or calling the Genesee Box Office at 847-263-6300.
The Buddy Holly Story
FREEDOM: A Tribute to George Michael & WHAM!
Creedence Revived: A Tribute to CCR
Petty & The Heartshakers
A Tribute to Patsy Cline Featuring Katie Deal
Group Sales
For this show, groups of 10 or more may receive 10% off.
Please fill out the form below to inquire, or you may call our Box Office at 847-263-6300 or email us at [email protected].
Print This Page