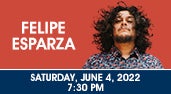 Date

Jun

4

, 2022

Price

$25.00, $40.00, $55.00

Availability
Felipe Esparza
Bad Decisions What's Up Fool?
Translate This They're Not Gonna Laugh at You
Rebound Material I'm Not Like That No More
Known for his blunt, street-smart humor and irreverent on-stage persona, Felipe Esparza fires off jokes with a nervous energy that matches his wild and crazy hair.
Growing up in the projects of East LA, he jokes, "I grew up in a gated community – the widows were gated, the back door was gated…" As a kid, he thought his dad worked for the government. "We had government cheese, government bread, government housing…"
Since winning season 7 of Last Comic Standing, the actor-comedian has performed in three comedy specials, enjoyed recurring roles on Gentefied, The Eric Andre Show and Superstore, and currently hosts a hugely popular podcast.
Mischievous and unpredictable, his playful approach to standup will make for a wildly entertaining evening.
Ticket Information
Tickets range from $25.00 to $55.00 plus applicable service charges. Tickets are available by visiting the Genesee Theatre Box Office, all Ticketmaster outlets, Ticketmaster.com & Ticketmaster charge by phone at 800-982-2787.
Price
$25.00, $40.00, $55.00
Print This Page