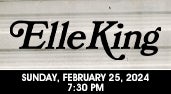 Date

Feb

25

, 2024

Price

$32, $45, $52, $65

Availability
Elle King
Ex's & Oh's Drunk (And I Don't Wanna Go Home)
The Let Go America's Sweetheart
Try Jesus Good Thing Gone
Worth a Shot Without You
Elle King has made a name for herself with her soulful, country-tinged take on classic rock 'n' roll. Never mind that she's the daughter of actor/comedian Rob Schneider. The four-time Grammy® Award nominee and CMA Award winner is already a multi-platinum recording artist with over 1.7 billion streams worldwide.
Her gritty vocals and playful songs have made fans of everyone from Oprah to Jimmy Fallon, and it's easy to see why. With her confident stage presence and charismatic swagger, the banjo-slinging rocker belts out her clever lyrics with heartfelt sincerity and a whole lotta attitude.
What's most intriguing is her voice. Deep and throaty, gentle or bluesy, she can make it growl or soar however she pleases. A rare talent who sounds even better live, Elle King is a natural performer whose upcoming show is one you can't afford to miss.
Ticket Information
Tickets range from $32.00 to $65.00 plus applicable service charges. Tickets are available by visiting or calling The Genesee Theatre Box Office, and Ticketmaster.com.
Group Sales
For this show, groups of 10 or more may receive 10% off.
Please fill out the form below to inquire, or you may call our Box Office at 847-263-6300 or email us at tickets@geneseetheatre.com.
Print This Page