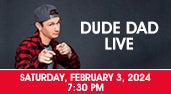 Date

Feb

3

, 2024

Price

$20, $35, $50

Availability
Dude Dad Live!
Super Dad Husbands of Target
Viral Vlogger How IKEA Was Invented
Arguably the coolest dad on the Internet, Taylor Calmus – also known as Dude Dad – has become an online celebrity through his hilarious comedy videos.
With 4.5 million followers on Facebook, 645,000 subscribers to his YouTube channel, three books and his own TV show, Super Dad, on the Magnolia Network, Calmus is becoming one hot commodity.
Fans can catch his amusing comedy sketches, pranks, vlogs and music parodies on most social media platforms. He's even teamed up with Wisconsin's own Charlie Berens on occasion to create videos that are truly priceless.
Having opened for Berens and with regular appearances on Jimmy Kimmel Live, the funny father of four's transition to stand-up comedy was a natural fit.
His spot-on observations about couples and parenting from a father's perspective will have dads laughing and moms grinning from ear to ear.
It's safe to say Dude Dad is no dud. He delivers and doesn't disappoint!
Ticket Information
Tickets range from $20.00 to $50.00 plus applicable service charges. Tickets are available by visiting or calling The Genesee Theatre Box Office, and Ticketmaster.com.
Group Sales
For this show, groups of 10 or more may receive 10% off.
Please fill out the form below to inquire, or you may call our Box Office at 847-263-6300 or email us at tickets@geneseetheatre.com.
Print This Page