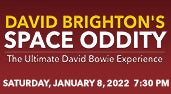 Date

Jan

8

, 2022

Price

$25.00, $35.00, $55.00, $99.00

Availability
David Brighton's Space Oddity
The Ultimate Tribute to David Bowie
The following show has been rescheduled.
New Date: Saturday, January 8, 2022 at 7:30 PM
Previous Dates: Thursday, September 17, 2020 ; Friday, May 7, 2021
Previously purchased tickets will automatically transfer to the new date. Refunds and additional assistance available by contacting the Genesee Theatre Box Office at 847-263-6300 or Tickets@GeneseeTheatre.com.
We appreciate your understanding. Tickets for the new show date are on sale now!
***********************************************************
Fame Let's Dance
Rebel Rebel Modern Love
Changes Young Americans
Ziggy Stardust Suffragette City
China Girl Space Oddity
David Brighton's Space Oddity: The Ultimate Tribute to David Bowie takes you on a musical journey through the amazing career of rock's most celebrated innovator.
From space-age rock idol to polished mainstream media star, Brighton goes through the ch-ch-ch-ch-changes to recreate Bowie's personas with impeccable flair. His voice, looks and moves are so eerily similar to the late rocker that Bowie himself approved of his show! He even appeared in a French TV commercial with the rock icon.
With an amazing band and costume changes throughout, David Brighton will give Bowie fans the tribute show they've longed for.
Ticket Information
Tickets range from $25.00 to $99.00 plus applicable service charges. Tickets are available by visiting the Genesee Theatre Box Office, all Ticketmaster outlets, Ticketmaster.com & Ticketmaster charge by phone at 800-982-2787.
Price
$25.00, $35.00, $55.00, $99.00
Print This Page