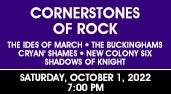 Date

Oct

1

, 2022

Price

$35.00, $47.00, $65.00, $85.00

Availability
The Cornerstones of Rock
During the late '60s and early '70s, a gallon of gas was around 35¢, a stamp set you back a nickel and garage bands were churning out some of the best rock 'n' roll ever recorded. Relive the era as the Cornerstones of Rock reunites five Chicago-area bands that influenced a generation.
THE IDES OF MARCH
Featuring Jim Peterik
Vehicle L.A. Goodbye You Wouldn't Listen
THE BUCKINGHAMS
Kind of a Drag Don't You Care Mercy, Mercy, Mercy
THE CRYAN' SHAMES
Sugar and Spice Up on the Roof I Wanna Meet You
NEW COLONY SIX
Things I'd Like to Say I Will Always Think About You Roll On
THE SHADOWS OF KNIGHT
Gloria Shake Oh Yeah
If you missed their last show, now is your chance. You'll be up on your feet singing along to so many memorable hits!
Ticket Information
Tickets range from $35.00 to $85.00 plus applicable service charges. Tickets are available by visiting the Genesee Theatre Box Office, all Ticketmaster outlets, Ticketmaster.com & Ticketmaster charge by phone at 800-982-2787.
Price
$35.00, $47.00, $65.00, $85.00
Print This Page