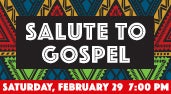 Date

Feb

29

, 2020

Price

$26.00, $28.00, $33.00

Availability
College of Lake County presents The CLC Salute to Gospel
50th Anniversary Celebration
Every Praise Souled Out
Let's Dance 99 1/2
Clean Inside Wonderful Is Your Name
Jesus Is My Help Power Belongs to God
Enjoy an uplifting, inspirational evening as the College of Lake County presents The 36th Annual Salute to Gospel Music. This special concert, celebrating the college's 50th anniversary, stars Gospel Music Hall of Fame inductee Bishop Hezekiah Walker and the Love Fellowship Crusade Choir. Known for their exuberant, contemporary gospel sound, these gifted musicians and their charismatic leader have received two Grammy® Awards and 12 Grammy® nominations.
The concert also features the CLC Gospel Choir, directed by Matthew Hunter, and the first-ever Reunion Choir, led by former Gospel Choir conductors Dr. Sandra Leconte, Mark Cosey and Charles Hayes.
Johaan Cotton-Wilson and Effie Rolfe are the emcees for the evening.
Ticket Information
Tickets available by calling the James Lumber Center Box Office at 847-543-2300 or visit https://www.jlcenter.clcillinois.edu/salute-to-gospel. Tickets the day of the show are available at The Genesee Theatre Box Office.
$26.00 - Advance Student/Staff/Alumni/Children 12yrs and under
$28.00 - Advance Full Price Adult
$33.00 - Full Price Day of Show ticket
Special CLC 50th Anniversary Offer:
5 tickets for $50!
Offer ends February 27, 2020.
Price
$26.00, $28.00, $33.00
Print This Page