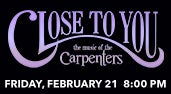 Date

Feb

21

, 2020

Price

$35.00, $50.00

Availability
Close To You: A Tribute to the Carpenters
Close to You Top of the World
Superstar Rainy Days and Mondays
Sing a Song We've Only Just Begun
Please Mr. Postman Yesterday Once More
Hurting Each Other Goodbye to Love
Anyone who loves the music of the Carpenters probably knows its lyrics by heart. The popular brother/sister duo of the '70s and '80s gave us some of the most unforgettable ballads and melodic pop songs of all time.
Chicago native Lisa Rock and her incredible six-piece band keep the Carpenters' music alive with Close to You: The Music of the Carpenters, an unforgettable show full of warmth, nostalgia and the duo's incomparable music.
Sit back and enjoy an incredible journey through the Carpenters' greatest hits and learn some of the backstories behind them. There's heartache, joy and feel-good familiarity in every song.
Share this enjoyable evening with someone you love. You'll be singing along to every sha-la-la-la, every woh-oh-woh-oh!
Ticket Information
Tickets range from $35.00 to $50.00 plus applicable service charges. Tickets are available by visiting the Genesee Theatre Box Office, all Ticketmaster outlets, Ticketmaster.com & Ticketmaster charge by phone at 800-982-2787.
Group Sales
For this show, groups of 10 or more may receive 10% off.
Please fill out the form below to inquire, or you may call our Box Office at 847-263-6300 or email us at [email protected].
Print This Page