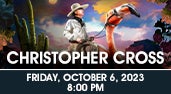 Date

Oct

6

, 2023

Price

$32, $45, $57, $75

Availability
Christopher Cross
Sailing Ride Like the Wind
Never Be the Same Arthur's Theme
All Right Think of Laura
Swept Away Say You'll Be Mine
Five-time Grammy® Award winner Christopher Cross was the first artist in Grammy® history to sweep all four major awards in a one night – best new artist, album, song and record of the year. It took nearly 40 years for another artist to repeat that feat.
The talented singer-songwriter added an Oscar® and a Golden Globe to his mantle a year later. With five Top 10 singles and over 10 million albums sold worldwide, he's become a fan favorite across the globe.
In concert, the native Texan surrounds himself with top-shelf musicians who help recreate his hits, one after another, like it was yesterday. Casual fans will recognize his sophisticated ballads, melodic pop songs and distinctive vocals, but they might not realize he's also a gifted guitarist.
With an artist so talented and successful, "the best that you can do" is see him live on stage.
Ticket Information
Tickets range from $32.00 to $75.00 plus applicable service charges. Tickets are available by visiting The Genesee Theatre Box Office, all Ticketmaster outlets, Ticketmaster.com and Ticketmaster charge by phone at 800-745-3000.
Christopher Cross Premium Ticket and Merch Package available on Ticketmaster.com Includes:
-Premium Concert Ticket
-Exclusive Christopher Cross Tote Bag
-Exclusive Poster signed by Christopher Cross
-Exclusive Christopher Cross VIP Merch Item
-Commemorative Christopher Cross Ticket
Merchandise items are collected at the venue on the night of the show. Merchandise subject to change. For questions related to your VIP order email: VIP@OneLive.com or call (877) 717-5816.
Group Sales
For this show, groups of 10 or more may receive 10% off.
Please fill out the form below to inquire, or you may call our Box Office at 847-263-6300 or email us at tickets@geneseetheatre.com.
Print This Page