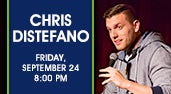 Dates

Sep

24

, 2021

Price

$99.00
Chris Distefano
For Mature Audiences
Due to a scheduling conflict, the Chris Distefano show has been rescheduled.

Previous Dates: Friday, December 11th, 2020 & Friday, March 19th, 2021
New Date: Friday, September 24, 2021 at 7 PM & 9:30 PM

Tickets that were purchased for the previous show date will automatically transfer to the new date. If you can attend, no action is required. Refunds and additional assistance is available by contacting The Genesee Theatre Box Office at (847) 263-6300 or [email protected].

We apologize for any inconvenience.

Tickets for the new date are on sale now.

***********************************************************

Chris Distefano: Size 38 Waist History Hyenas
MTV's Guy Code/Girl Code Benders
Late Night with Seth Meyers TruTV's Comedy Knockout
Staten Island Truffle Hunter Bay Ridge Boys

With a one-hour Comedy Central special firmly under his size 38 belt and another on the way, Chris Distefano is a rising star on the comedy circuit. The charismatic actor and comedian blends his New York City edge and nice-guy charm to deliver a razor-sharp, relatable set that quickly gets everyone laughing.

Whether it's everyday observations, growing up in Brooklyn or the quirks of fatherhood, the livewire comic keeps his show fully charged with a Rolodex of characters and rapid-fire punch lines. For Mature Audiences

The NEW Genesee Street Cabaret, produced by The Genesee Theatre and located inside Three Brothers Theatre, is the perfect setting to safely bring live performances back to the community. These black box style events set the perfect mood for a unique and luxurious night out!

Tickets include free parking and tableside bar service.
Limited capacity per local mitigation guidelines. All tickets sold in groups of 2 and are priced per person. Only 2 people per table allowed. Social distancing and deep cleaning protocols will be in place. Masks are required.

Ticket Information
Tickets are available by calling or visiting the Genesee Theatre Box Office at 847-263-6300 or [email protected].
Print This Page