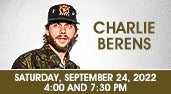 Dates

Sep

24

, 2022

Price

$32.50, $52.50, $62.50

Availability
Charlie Berens
Manitowoc Minute Unthawed
Funny or Die You're So Money
With his thick "Up Nort" accent, comedian Charlie Berens has created a hilarious YouTube character that has become a viral phenomenon. Poking fun at all things Wisconsin, the "M'waukee" native captures the quirky charm of speaking "'Scansin" that is so unique to the Badger State.
And oh so funny.
Thanks to his new book, The Midwest Survival Guide, the sketch comedian and Emmy®-winning journalist is now a New York Times best-selling author, don't cha know.
On stage, Berens brings that same charismatic wit to his standup. You'll be laughing so hard your sides will hurt, honest to Pete. Holy moly, tickets are going to sell fast. You betcha!
Ticket Information
Tickets range from $32.50 to $62.50 plus applicable service charges. Tickets are available by visiting the Genesee Theatre Box Office, all Ticketmaster outlets, Ticketmaster.com & Ticketmaster charge by phone at 800-982-2787.
Price
$32.50, $52.50, $62.50
Print This Page