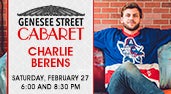 Dates

Feb

27

, 2021

Price

$99.00
Charlie Berens
Manitowoc Minute Funny or Die
Choose or Lose You're So Money

With his thick "Up Nort" Wisconsin accent, comedian Charlie Berens plays a YouTube character that has become something of a viral phenomenon. Poking fun at all things Wisconsin, the "M'waukee" native captures the quirky charm of speaking "'Scansin" that is so unique to the Badger State.

Berens got his first break covering the 2008 presidential election for MTV News and later won an Emmy for The Cost of Water while reporting for KDAF. He eventually moved on from serious journalism to sketch comedy and hasn't looked back.

Berens's attention to detail and understanding of Wisconsin culture is apparent in all of his videos and his recent LP, Unthawed. He brings that detail to every live performance.

You'll be laughing so much you'll want to make sure you know where the bubbler is, for cripes sakes. You betcha!

Genesee Street Cabaret, produced by The Genesee Theatre and located inside Three Brothers Theatre, is the perfect setting to safely bring live performances back to the community. These black box style events set the perfect mood for a unique and luxurious night out!

Tickets include free parking and tableside bar service.
Limited capacity per local mitigation guidelines. All tickets sold in groups of 2 and are priced per person. Only 2 people per table allowed. Social distancing and deep cleaning protocols will be in place. Masks are required.

Ticket Information
Tickets are available by calling or visiting the Genesee Theatre Box Office at 847-263-6300 or [email protected].
Print This Page