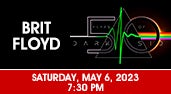 Date

May

6

, 2023

Price

$37.50, $57.50, $72.50, $172.50*

Availability
Brit Floyd: 50 Years of Dark Side
The World's Greatest Pink Floyd Tribute Band
Money Another Brick in the Wall
Time Wish You Were Here
Hey You Comfortably Numb
Us and Them Shine On You Crazy Diamond
Celebrate the 50th anniversary of The Dark Side of the Moon as Brit Floyd returns with a brand-new show!
Since 2011, this spectacular tribute band has been selling out venues around the world, including London's Royal Albert Hall, LA's historic Greek Theatre and New York's Radio City Music Hall.
This 2½ hour concert is the group's most ambitious yet, highlighting music from Pink Floyd's groundbreaking album, plus songs from The Wall, Wish You Were Here, Animals and The Division Bell.
It's a full-scale production complete with a multimillion dollar light show, enormous circular screen, videos, lasers and inflatables.
If you've always wanted to know what it was like to see Pink Floyd in concert, this is it!
Ticket Information
Tickets range from $37.50 to $72.50 plus applicable service charges. Tickets are available by visiting The Genesee Theatre Box Office, all Ticketmaster outlets, and Ticketmaster charge by phone at 800-982-2787.
*VIP Packages only available through Ticketmaster.com
Price
$37.50, $57.50, $72.50, $172.50*
Print This Page