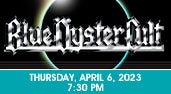 Date

Apr

6

, 2023

Price

$52.50, $75.00, $90.00

Availability
Blue Öyster Cult
with Mark Farner's American Band
The Genesee will erupt with guitars a-blazin' when Blue Öyster Cult takes the stage. Known for their hard-edged rock, monster riffs and tight harmonies, these heavy-metal pioneers put on a clinic wherever they go – with or without cowbell.
After 15 studio albums, the band has developed a "Cult" following thanks to some mainstream hits, "Cult" classics and a few pearls from their freshly shucked album, The Symbol Remains.
Opening the show is legendary singer and guitarist Mark Farner, who helped Grand Funk Railroad barrel onto the '70s rock scene like a runaway train.
After five decades, the animated frontman is still having a ball on stage. He may have a few miles on the clock but his vocals are as strong as a locomotive.
Ticket Information
Tickets start at $52.50 plus applicable service charges. Ticket prices subject to change without notice. Tickets are available by visiting the Genesee Theatre Box Office, all Ticketmaster outlets, Ticketmaster.com & Ticketmaster charge by phone at 800-982-2787.
Price
$52.50, $75.00, $90.00
Print This Page