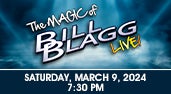 Date

Mar

9

, 2024

Price

$28, $36, $42, $48

Availability
The Magic of Bill Blagg
"Mind-Blowing Magic!" –CBS "Sensational!" –Chicago Tribune
"Captivating!" –NBC "Incredible Family Fun!" –USA Today
Experience The Magic of Bill Blagg and you'll quickly understand why he's becoming one of the hottest touring illusionists. His performances are full-scale productions carefully crafted with unique stage sets, theatrical lighting and heart-pounding music.
You'll be amazed as he performs his mix of mystifying magic and jaw-dropping illusions right before your eyes.
The talented performer has been known to teleport himself from one end of a theater to another, squish his six-foot frame into a six-inch box and pass through the spinning blades of an industrial fan without so much as a scratch. Objects float in midair and then vanish in the blink of an eye.
Some lucky audience members might even get a chance to levitate in midair!
With his impeccable timing and unique sense of humor, it's going to be a magical evening full of fun and surprises. Experience the thrill before tickets disappear!
Ticket Information
Tickets range from $28.00 to $48.00 plus applicable service charges. Tickets are available by visiting or calling The Genesee Theatre Box Office, and Ticketmaster.com.
Group Sales
For this show, groups of 10 or more may receive 10% off.
Please fill out the form below to inquire, or you may call our Box Office at 847-263-6300 or email us at tickets@geneseetheatre.com.
Print This Page