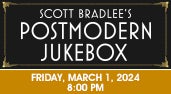 Date

Mar

1

, 2024

Price

$30, $40, $50, $65

Availability
Scott Bradlee's Postmodern Jukebox
The '10' Tour
Umbrella Uptown Girl
Shake It Off All About That Bass
Toxic Seven Nation Army
Bad Guy Black Hole Sun
Thong Song Careless Whisper
Bad Romance No Diggity
Wannabe Never Gonna Give You Up
Creep Oops!...I Did It Again!
Scott Bradlee's Postmodern Jukebox is hitting the road with The "10" Tour, celebrating 10 years of modern hits reimagined as vintage musical numbers.
Imagine Dua Lipa's Levitating performed in the style of 1920s jazz, the Bee Gees' Stayin' Alive done as ragtime rockabilly or Soundgarden's Black Hole Sun played as a haunting orchestral piece.
You'll be grinning from ear to ear when you hear these brilliant retro masterpieces for the first time. Some are clever, some are tongue-in-cheek and some are just mind-blowing renditions that are better than the originals.
With a rotating cast of the finest singers and musicians who perform around the world, PMJ reinterprets these hits with all the glitz and glamour of the time period.
If you're new to Postmodern Jukebox, you can follow them online, just like their 6 million YouTube subscribers and 3.4 million Facebook followers do.
Enjoy "life in the past lane" where everything new is old again!
Ticket Information
Tickets range from $30.00 to $65.00 plus applicable service charges. Tickets are available by visiting or calling The Genesee Theatre Box Office, and Ticketmaster.com.
Group Sales
For this show, groups of 10 or more may receive 10% off.
Please fill out the form below to inquire, or you may call our Box Office at 847-263-6300 or email us at tickets@geneseetheatre.com.
Print This Page