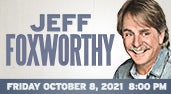 Date

Oct

8

, 2021

Price

$59.00, $79.00, $99.00

Availability
Jeff Foxworthy: The Good Old Days Tour
Jeff Foxworthy at Genesee Street Cabaret has been rescheduled.

New Date: Friday, October 8, 2021 at 8:00 PM
Previous Show Dates: Saturday, October 3, 2020 ; Friday, June 25, 2021

Tickets that were previously purchased will automatically transfer to the new date. If you can attend, no action is required. Refunds are available at the point of purchase. Additional assistance is available by contacting The Genesee Theatre Box Office at (847) 263-6300 or [email protected].
We apologize for any inconvenience.

Tickets for the new date are on sale now.

************************************************************

You Might Be a Redneck If... The Jeff Foxworthy Show
Blue Collar Comedy Tour Are You Smarter Than a 5th Grader?
If you're a successful comedian, bestselling author and occasionally smarter than a fifth grader, then you might be Jeff Foxworthy.
The multiple Grammy® Award nominee, actor and TV personality has sold more comedy recordings than any other comedian. He's also listed among Comedy Central's 100 Greatest Stand-Ups. Not bad for a guy who started out working on computers at IBM.
Foxworthy's act takes you beyond the redneck jokes and explores the hilarity of family, general husband-wife oddities and the quirkiness of everyday life. He'll have you in stitches in no time! We're just not sure how to remove them.
Ticket Information
Tickets range from $59.00 to $99.00 plus applicable service charges. Tickets are available by visiting the Genesee Theatre Box Office, all Ticketmaster outlets, Ticketmaster.com & Ticketmaster charge by phone at 800-982-2787.
Price
$59.00, $79.00, $99.00
Print This Page